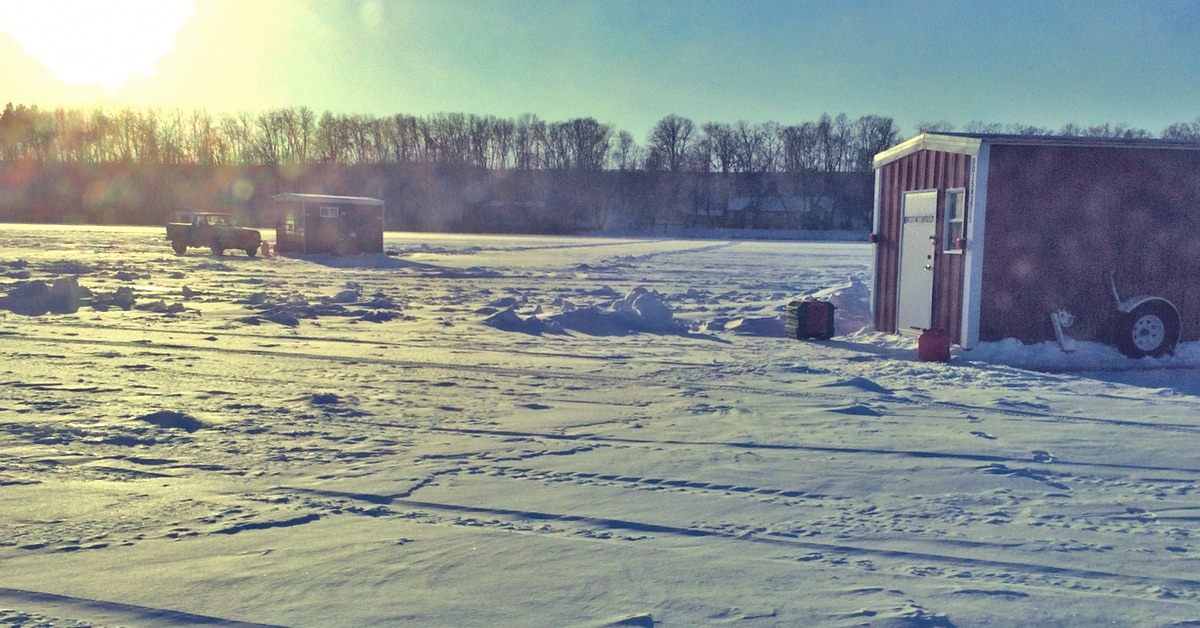 Ice Shelter Basics
People who do not live in a cold climate, just can not understand the concept of driving out on a frozen lake, drilling a hole and fishing.
Why would you want to sit out in the freezing cold?
On the other hand, those of us who live in the land of ice and snow can not wait for first ice to set up an ice shanty and start fishing.
I do not think any who have not experienced it can appreciate the peace and quite that you can have out in the middle of a frozen lake in a fish shelter. If you have not ever ice fished in a shelter, make this the year you do.
Growing up in Minnesota, I have seen and built all types of ice shelters.
The first ice shanty I built was a simple 6 'x 6' structure with a 2 "x 2" frame covered with wafer board.
To heat the unit I had a simple wood stove that I made in metal shop that kept the house plenty warm. It had no insulation and no frills, but it was great.
That was about as basic of ice shanty as you could make.
My friend who was much more of a fisherman than me had a slightly larger fish house, that was fully insulated, paneled and carpeted with a nice wood stove with a damper.
His ice shelter seemed to be more of a cabin than anything to me and the insulation really added to the quiet.
As time went on I built several others.
I even built a portable ice shanty that had a plywood floor with two plywood end walls that folded down.
There was a piece of tarp that stretched between the two end walls. This ice shanty although crude in design was actually fun to use as it was completely portable.
I heated it with a small propane heater. It was not the warmest fish house, but it was definitely easy to set up, move and store.
Today there are many commercially available pre built ice shelters to choose from.
You can get a variety of portable units, most based upon a sled.
These are nice for pulling out to your spot with all your gear loaded on the sled. A simple propane heater will heat them just fine. Most of them hold two comfortably, some are designed for just one person.
What is the ultimate ice shanty?
Some of the more elaborate prebuilt units have bunks stoves and TVs.
Many of these are built on a trailer that will lower down flat onto the ice making them the ultimate in portable ice shelters.
Many still choose to build their own ice shanty, I think that is part of the fun.
My advice is build it well with weather resistant materials. There are actually retailers that market materials to the ice fisherman for their ice shelters. Make sure to insulate it well, and maybe even run wiring for a 12 volt lighting system.
As for a heat source, I still like wood, but propane is much easier to use.
Whatever you choose make sure you have proper ventilation and a carbon monoxide detector.